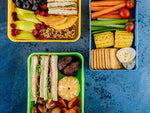 As a parent, keeping your children happy and healthy is your biggest priority. Whether you're enrolling them in after-school sports, limiting their daily screen time, or preparing them nutritious meals, all of your efforts are important to helping them lead a healthy life.
With the new year starting, it's time to think about how to keep your little ones well-fed when they're at school. Below, we've shared five of our favourite ideas to help you create a healthier lunch box for your kids in 2022.i
Incorporate as many colours as possible
Are you familiar with the phrase "eat the rainbow"? It's a simple trick that encourages you to eat a variety of colourful fruits and vegetables each day – and it's very kid-friendly. Consuming different kinds of fruit and veg will bring variety to your children's lunch boxes and help them get a mix of essential phytochemicals.
Consider all of the senses (apart from taste)
Getting your little ones to follow a healthy diet isn't always easy. However, if you engage their senses and let them help with the planning, they may be more encouraged to eat their lunches. For example, you might propose colour-coded lunches based on the day of the week, where Mondays could be red (including cherry tomatoes and spaghetti bolognese), Tuesdays could be green (kiwifruit and celery), and so on.
Get feedback if they didn't eat something
If your child returns home and hasn't eaten their lunch, make sure you find out what happened. Did something go slimy? Did it start to smell bad? Understanding why they didn't eat something will help you pack future lunches more effectively, so your little one enjoys a nourishing meal, and you reduce waste.
Consider how kids eat
Does your little one eat with their hands? As a parent, it might drive you crazy, but on the plus side, it could help you decide which foods to pack in their lunch box. Ditch the cutlery and provide healthy ingredients in kid-friendly ways (such as a roll, wrap, or stack), and you'll have a better chance of getting your little one to eat.
Offer creative alternatives
If your youngster is a slow eater or you simply can't convince them to eat their fruits and veggies, give them an alternative way to get their vitamins and minerals. For instance, you could pack a cold-pressed juice, smoothie, or juice shot as a quick and tasty way to consume their daily nutrients. Not only are these products healthy and delicious, but they're also available in different sizes, flavours, and textures, so you're sure to find one that your child loves.
At Juiced Life, we know that following a healthy, well-balanced diet can be challenging for kids and parents alike. We have a selection of products designed to help you achieve your health goals – without sacrificing taste.
Visit the Juiced Life website to explore our range of juices, juice shots, smoothies, protein balls, and much more. Right now, you can get a bonus juice pack for every purchase over $79 with code NYSP22 at checkout.