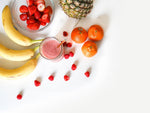 When taken as part of a well-balanced diet and lifestyle, Juiced Life's juice products are an excellent everyday tool to manage your health and feel great. Not only can they add more essential vitamins and minerals to your diet, but they can also offer several additional benefits, including improved digestion, heightened immunity, stress-relief, natural antioxidants, and less inflammation.
In this article, we've highlighted five key reasons to consider making our powerpacks and juices part of your daily routine. Keep reading to learn about the impressive benefits of our juice products, along with a discount code to try them for yourself.
They include valuable ingredients
One of the top benefits of Juiced Life powerpacks and juices is that they contain a range of beneficial ingredients that are difficult to find in other drinks. For example, our Immunity juice shot is made with cayenne pepper, which is packed with important vitamins (specifically A and C) and can help with overall wellness - yet it's not frequently used in other drinks. The blend, which also includes ginger and honey, is a natural tonic that assists in strengthening your defences year-round.
They're designed for multiple purposes
At Juiced Life, our juice products are tightly pressed and jam-packed with healthy vitamins and minerals - allowing you to get maximum nutritional value in a compact package. For instance, a single 50ml shot of My Liver Detox can help detoxify, support digestion, and benefit your nervous system. It might look small, but it packs a punch.
They're available in various flavours
With so many flavours and ingredients, it's easy to find a powerpack or juice that suits your palate. Whether you prefer the natural sweetness of fruit, the spicy kick of cayenne, or the nutrient-packed flavour of vegetables, you'll find plenty of tasty options from Juiced Life. Not sure what you like? Try a four-shot powerpack for a diverse selection of flavours.
They're perfect for busy lifestyles
Life can get incredibly busy, and it's often impossible to make time for three meals per day. But even if you don't have time to sit down for a meal, it's still important to get all of your critical nutrients. Instead, you can grab a Juiced Life powerpack or juice to sip slowly throughout the day or consume in a single shot.
They're fresh and free from harmful ingredients
Whether you're picking up from a Juiced Life store, one of our many stockists or having your products delivered, you can feel confident knowing they're fresh and made without sugar or preservatives. After your purchase, our juices have a shelf life of up to three days. As long as you store and consume them correctly, your powerpacks and juices will always be fresh.
At Juiced Life, we're passionate about creating healthy food and beverages that are specifically designed to help you feel your best. We sell a range of nutritional products that promote personal wellness, including cold-pressed juices, raw soup, protein balls, and more. Visit the Juiced Life website to explore our full selection and place your order.
Ready to kick off summer with Juiced Life? If you spend more than $99 with us, you'll get a bonus Summer Pack ($39 value) with your order, which includes juices, protein balls, and more. To get this free pack, enter code SP21 at checkout.