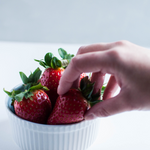 Juice cleanses do amazing things to your body. They lighten your digestion, help clear out wastes and supply the vitamins and minerals that your cells are screaming for.

But research shows that chewing our food is equally important for dietary satisfaction, weight management, brain and even heart health. So what do you eat during a juice cleanse when you need some crunch?

We now stock some yummy, healthy snacks to give you that bite factor. Shiitake Mushroom Crisps sound intriguing? They are simply delicious. So are our Kale Chips, and don't forget our Dark Chocolate Strawberries. OMG. Compared to regular treats, these snacks have less processing, higher quality ingredients, and well-chosen flavours.

Naturally you can reach for some raw vegetables with bite. Choose raw green beans, julienned carrots, celery sticks, or slices of colourful capsicum. Did you know that chewing on a raw carrot is almost as effective as cleaning your teeth with a toothbrush?

Crunching away at these types of goodies can be your saviour when you feel like you're drowning in juice. So next time you feel like a little break from your juice cleanse, chomp down on something crunchy and healthy without feeling guilty.