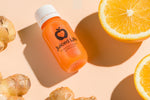 Have you just made it to the end of a juice cleanse? Congratulations! Committing to improving your health and wellbeing is no small feat, and seeing it through to completion is a huge reason to celebrate.
If you've just completed a juice cleanse, you are likely to feel different in your body. You may feel lighter, more energised, and refreshed after giving your body a chance to detox from unhelpful foods and ingredients. Juice cleanses can be hard work, particularly for first-timers, so reaching the finish line of a successful juice cleanse is certainly something worth noting.
Some people may feel the temptation to dig into a juicy steak on the other side of a juice cleanse or detox. While this makes sense as a natural instinct after multiple days without solid foods, this is one easy way to swiftly undo the work you've just invested in your digestive system. It's like going from 0 to 100 the moment you turn the engine on! By easing your way back into solid foods, you can work with your body to make the most of your ongoing juice cleanse outcomes. 
Instead of reaching for the steak, the cake or the glass of wine, here are three wellness-approved rewards that are the perfect way to congratulate yourself for reaching the finish line.
Spend an entire day doing things that make your body feel fantastic.

The end of a juice cleanse is a wonderful opportunity to increase your connection to your body. By investing your time into activities that make you feel good, you can continue the good work of your juice cleanse. Indulge in a holistic approach to mind, body and soul. We recommend spending the day in the sunshine with a favourite book, going for a gentle walk, diving into the ocean, napping in a hammock, pottering around the garden, or discovering a new bushwalk that's appropriate for your post-cleanse energy levels. Bringing consistent movement into your daily routine is one way to remind your body that you're investing in it on an ongoing basis, and by prioritising this connection to the body, grow your intuition as you ease out of your juice cleanse back into solid food consumption. 

Treat yourself!

Is there a new yoga mat you've had your eye on? A thermos that's perfect for keeping drinks hot and cold on the run? A pair of runners you can't wait to put to use? The end of a juice cleanse is the perfect time to use that good old-fashioned rewards system. Whatever your treat item is, this is something you can use as an incentive throughout your juice cleanse to keep you focused on that end goal.

Pick up a beautiful new cookbook.

You may find yourself in need of new recipes on the other side of your juice cleanse, particularly if you went into this detox looking to change the way your body feels after meals. By finding a new cookbook that aligns with the kinds of meals and ingredients your body is most in need of, you can turn the process of everyday nutrition into a fun, ongoing adventure of discovery. 
With a range of juice cleanses available that cater to all kinds of needs, we're serious about the business of eliminating toxins and improving longevity through maximised health benefits. 
Make the most of our Easter special and kick-start your cleanse with a bag of protein balls and 2 x 50ml shots available for purchases over $49 (valued $20) or 2 x bags of protein balls, 4 x 50ml shots and a 150ml glass bottle bonus for purchases over $99 (valued $50). You can also grab a bonus vegan ball with any purchase over $7 at any of our in-store locations from 3 April. 
Check out our range of juice cleanses and start planning what that finish-line reward will be!