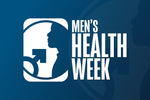 International Men's Health Week is such a fantastic opportunity each year to highlight the importance of men's health. With this week focusing not only on physical health but also on mental and emotional wellbeing, this international initiative encourages communities around the world to work towards healthy and holistic outcomes.
In 2022, the theme of Men's Health Week is Building Healthy Environments for Men and Boys. This idea creates an opportunity to focus on the elements that make up these healthy environments on a physical, mental and emotional level.
If you're looking to get in the spirit of this important initiative and support yourself (or the men in your world) with intention, here are three easy ways you can increase your physical, mental and emotional health by focusing on your nutrition. 
Focus on adopting one small but powerful healthy habit

It's easy to tell ourselves we'll build good habits, only for another busy day to get in the way of following through on the impulse. By focusing on one small, easily completed and actionable habit, you can find a new way to introduce necessary nutrition into your daily fuel. 
If you're forever skipping breakfast in the rush to work, consider finding a new delicious smoothie or natural cold-pressed fresh juice that can give you a hit of the goods as you begin your day. Likewise, if a busy work schedule means you're likely to skip lunch, load up on nutritious options that are easy to reach for when you're on the run. 
By changing one small habit and replacing it with a meal or juice that provides your body with all kinds of nutritional benefits, you can make a major impact on your daily energy levels and capacities.
Consider a cleanse

International Men's Health Week could be the perfect opportunity to do a natural juice cleanse. With cleanses lasting from 3 to 8 days, make the most of this health focus and dive into the benefits a cleanse can offer you. 
Cleanses can eliminate toxins and give our bodies opportunities to rest and reset. They're also powerful tools in preventing chronic disease, boosting immune systems and increasing mental clarity.  
Check the balance of your diet

A healthy, supportive diet is the foundation for physical, mental and emotional wellbeing. When we fuel our body with food that is supportive of its necessary functions, we're choosing to make the most of positive energy sources that maintain and heal. A balanced diet is all about understanding the nutrients your body needs for its best function. This includes a mixture of fresh fruits and vegetables, grains, legumes, nuts, proteins and healthy fats. 
If you're struggling to get the nutrients you need, opting for a juice that's free from sugar and preservatives can give your diet the kick it needs in the right direction. Go for the My Energiser to get an easy hit of vitamins A, B and C, thanks to its pineapple, green apple, cucumber, spinach and mint ingredients. Explore our full range of juices to find one to suit your tastes and needs.