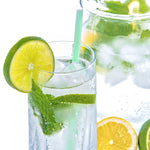 WHY IT'S IMPORTANT TO STAY HYDRATED IN WINTER
Winter is hibernation season when we tend to stay indoors with the heater on. If we aren't exercising, we are unlikely to be sweating, so our thirst may not be as evident. However, our cells still require the same amount of fluids as during summer. Research shows that even low-grade dehydration means you can't manage stress as well. It also means that every part of us is lacking fluid - so our brain, muscles, skin and all other organs are under-performing. Stay hydrated during the colder months with plenty of water, juices, smoothies and other fruit and vegetables high in fluids.

INGREDIENTS BENEFICIAL FOR WINTER
Eating seasonally means fresher ingredients at their nutritional peak. Fruit and vegetables can also help you regulate your body temperature. Summer fruits for example can have cooling qualities internally.
Red capsicum is one winter vegetable in our soups which is high in vitamin C, carotenoids and the potent anti-oxidant xeaxanthin. The flavonoid lutein (great for eye health) is lost with prolonged heating so short, low temperature cooking is best for this phytonutrient. We heat our soups for under 5 minutes to help retain their wintery goodness.