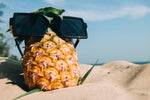 Whether you're swimming, hosting a BBQ, or exercising, the beach is the perfect place to enjoy a summer day. However, with the summer heat often reaching extreme temperatures, it's essential to take preventative steps to stay hydrated.
In this article, we'll explain how to keep yourself and your family hydrated at the beach this summer – beyond just drinking water. Read on to get our tips for a safe, healthy, and hydrated summer.
How much water is enough?
You already know that drinking water is critical to stay hydrated, but do you know how much water you should drink each day? The answer depends on multiple factors, including gender, age, lifestyle, medical conditions, and outdoor temperatures, but you can use the following estimates as a guideline.
Generally speaking, men need to consume approximately 2.6 litres of fluid each day, while women need 2 litres (or more if you're pregnant or breastfeeding). Children require between 1 - 2 litres, depending on their age.
Fortunately, drinking water isn't the only way to reach these targets. In fact, you can get about 20% of your daily water intake from food, with the rest coming from various liquids, including water, milk, juice, smoothies, tea, and coffee.
Getting more water into your diet
As we've mentioned, drinking water isn't the only way to stay hydrated. Below, you'll find three alternative ideas for keeping your fluid levels up on a hot day at the beach.
1. Mix in juices and juice shots
Besides water, cold-pressed juices and juice shots are one of the best ways to stay hydrated. Not only are they all natural and packed with essential vitamins, minerals, and enzymes, but they also taste great. Juice shots are perfect for a beach day as they're compact and easy to pop into your esky or beach bag for all-day hydration.
2. Eat the right foods
What's a beach day without snacks? Next time you head to the coast, bring along some foods that contain a higher water content. For example, foods like watermelon, capsicum, cucumber, tomatoes, and celery will help you maximise your fluid intake while also nourishing your body.
3. Limit alcohol intake
Beach days are the perfect way to celebrate special occasions and spend quality time with loved ones, but it's important not to overindulge on alcohol. Beer, wine, and liquor have a dehydrating effect, which can work against you in the heat. Instead, swap the booze for a healthy blended juice or drink extra water for each alcohol drink that you consume.
These days, staying hydrated is easier than ever before – whether you're at the beach, at home, or on the go. At Juiced Life, we offer hydrating products like juices, smoothies, and more, to help you stay happy and healthy wherever you are.
Juiced Life's nutrient-rich juices and powerpacks are the ideal solutions to cleanse your body and reset for the new year. Right now, we're offering a bonus 12-pack juice shot for purchases over $79. You can redeem this offer by heading to our website, filling your cart with your favourite products, and entering code NYSP22 at checkout.