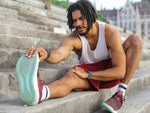 After an unpredictable year, now is a great time to look ahead and start making plans for a positive and prosperous 2022. There's no better way to do that than planning to integrate some of these wellness trends in the new year.
We asked the Juiced Life team to weigh in on what they expect to see from the health and wellness space in 2022. It's shaping up to be a fantastic year with lots of emphasis on our mental and physical well-being. Check out some of our predictions below.
More infrared saunas
It's been a couple of years since infrared saunas hit the health scene, and we're anticipating that their popularity will extend - and amplify - in 2022. Infrared saunas use light waves to warm you up, purify your body, and detox heavy metals, ultimately leaving you feeling more relaxed and rejuvenated.
Curious to experience these benefits for yourself? Depending on where you live, you may be able to book a session at your local health club or spa. If you're interested in at-home treatment, there are quite a few brands that sell private in-house saunas.
Smarter (and smaller) personal health technology
Wearable health devices have become staples for health-conscious individuals. But today, we're seeing this type of technology become smaller and more sophisticated – and the recently-released Oura Ring 3 is a great example.
Unlike the Fitbit and Apple Watch, which are strapped to a user's wrist, the Oura device is worn like a ring and wrapped around a single finger. It seems to be an interesting sign of things to come, signalling that health technology is becoming more embedded in people's lives.
Face yoga
You already know that practising yoga is a wonderful way to stay connected with your mind, body, and soul. But now, face yoga is gaining prominence to keep your skin looking younger, increase circulation, and reduce tension. It's also a non-invasive alternative to cosmetic procedures and skincare products.
The best part? You don't need any expensive tools or products to practise face yoga. Instead, clean hands and face oil or serum are all you need to try this wellness trend.
Nutrient-packed drinks, meals, and snacks
Finally, we're expecting 2022 to be a big year for getting back to a pre-pandemic "normal." Many people will plan to reunite with loved ones interstate or overseas, while others will prepare to get back to the activities they love.
Either way, life will be busy in 2022, which is why our juices and power packs will be more important than ever before. These products provide essential vitamins in minerals in small, tasty, and easy-to-consume packages, perfect for busy lifestyles.
At Juiced Life, we're passionate about helping our customers live their healthiest lives. We make healthy living easy by offering a wide range of delicious and conveniently-packaged health products, including cold-pressed juices, smoothies, juice shots, and protein balls.
Whether you're interested in starting a cleanse, beginning a detox program, or simply gaining more energy for your everyday life, Juiced Life can help. Visit our website to explore our full range of products or reach out through our contact page.