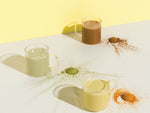 Hot drinks hold a special place in our hearts. Heat improves digestion by lubricating food on the way down. It hydrates, just like cool water, but less energy is required to heat it up to body temperature. Ingesting warm food & drinks is calming, just like taking a warm bath as it opens up blood vessels (vasodilation). Studies have shown that people are more likely to be more sociable and less anxious just by holding a hot drink.
Juiced Life is offering 3 new hot drinks to boost your mood and put a smile on your face.
• MATCHA LATTE:
This is the ultimate matcha experience. Where the bitterness of green tea meets the sweetness of a warming drink, our Matcha Latte is smooth and dairy-free. Made with either almond milk or coconut milk, this hotty has a distinct matcha flavour. Matcha's concentrated green tea flavour is the perfect alternative to caffeine, as it helps give clarity and alertness with a sense of calm.
• TURMERIC LATTE:
This may well be the best Turmeric Latte recipe ever. Using ginger to heat, peanut butter to add creaminess, and cinnamon & vanilla for sweetness, this hot turmeric drink delivers all the flavours. Black pepper adds a little heat, while enhancing the benefits of turmeric. This is a rich, nutty turmeric experience that is bound to satisfy.
• HOT CHOCOLATE:
How can you go past feel-good Hot Chocolate? Healthy and dairy-free, it's delicious in either almond milk or coconut milk. With just a hint of vanilla, cinnamon and ginger, the taste is sweet and rich and addictive. Our Hot Chocolate has a slightly nutty flavour to nurture and warm from the inside out.